Our trainers must maintain their credentials through rigorous continuing education. This continuing education ensures that we are knowledgeable about the most current thinking, research, and techniques in the field. The technology and principals we use are based on science – not tradition.
hOW DO YOU CHOOSE A GOOD DOG TRAINER?
Not all trainers are certified in the same way or follow the same code of ethics. The APDT's website has information for the pet owner to make an informed choice so you don't waste your time or money.
Our certified professional dog trainers are nationally certified by The Certification Council of Professional Dog Trainers. They are also professional members of the Association of Pet Dog Trainers and are experienced in training pets, their people and other animal care professionals. We have wonderful relationships with many veterinarians in the area who trust our methods and advice. See our Resources page for a list of veterinarians.
Our approach
We use science-based training methods to teach your dog what we like and what we don't through positive reinforcement, controlling the resources, managing the environment, and replacing unwanted behaviors with new ones.
Leeann Holloway, CPDT-KA
Leeann is the owner of Pups Grow Up, llc. She is a Certified Professional Dog Trainer by The Certification Council of Professional Dog Trainers. Leeann is also a professional member of the Association of Pet Dog Trainers. She co-owned and taught dog training classes for Pawsitive Pet Solutions since 2001 before deciding to start Pups Grow Up, LLC; a company that would focus on delivering the best training classes and in-home training in the area for family dog owners. She has over 20 years of experience teaching training classes and conducting private lessons. In addition, she spent several years volunteering as an obedience instructor for a local shelter and has provided foster services to numerous dogs with special training needs. Leeann is also a Canine Good Citizen Evaluator for the AKC and a Fear-Free Certified Professional.
Her commitment is to help owners obtain that trusting, loving relationship we all seek with our dogs by opening the lines of communication between dogs and humans in a positive and respectful way. She lives in Beavercreek with her husband, three kids, two dogs and two kitties.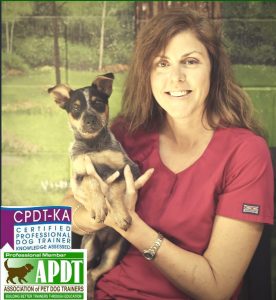 Megan Reiser, CPDT-KA
Megan has maintained a passion for animals and their behavior all of her life. She volunteered at local shelters any chance she could as a child and got her first job in a Daycare and Boarding kennel at the age of 15. She has never stopped working in the pet care industry since! Doing everything from helping groomers and veterinarians to socializing puppies, she has always enjoyed helping pets be as comfortable and happy as possible.
Megan is a Certified Professional Dog Trainer recognized by The Certification Council of Professional Dog Trainers. She is also a member of the Association of Professional Dog Trainers. Megan is actively involved in learning sporting and competition skills with her own dogs through their obedience club and especially enjoys seeing her rescues succeed! Megan has a thirst for knowledge and continues her education through Karen Pryor Academy and PetMassage Training & Research Institute.